Books, eBooks and audio books


Featured books


"The reality of the soul is so unfathomable and so deep, and is so palpable to anyone with eyes and ears that we have no need to seek the darkness and the twilight to invoke the dead."
~Johann Christoph Hampe

And Another Thing: Memories of Family Life with a Psychiatrist by Elizabeth Fenwick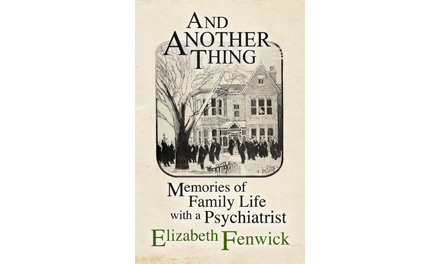 In And Another Thing: Memories of Family Life with a Psychiatrist, Elizabeth Fenwick, wife and co-author of neuropsychologist Peter Fenwick, presents a collection of reflections on family life in London in the twentieth century. Originally written as a series of essays for World Medicine, a leisure magazine for doctors which, under its editor Michael O'Donnell, World Medicine established itself as the most entertaining – and in terms of medical politics – the most irreverent and radical medical magazine of the 1970s. Read more...

Feature articles
One Hundred Cases for Survival After Death: Dreams


Ordinary, normal dreams do not enter into the scope of this chapter; it is only the veridical dream of the supernormal variety which comes within the province of psychical research that we are concerned with.

The Afterlife: What might it be like? by Tricia Robertson


The Afterlife: What might it be like? Before addressing the idea of how one might spend the time in an afterlife – in fact 'Things we can do when we are dead' – we should take time to clarify just what an afterlife may (or may not) be like.

Abduction: The Next Generation by John E. Mack


"If you keep asking them [the beings] questions, they keep reforming the thing in such a way that the questions get more provocative but can't quite be answered. . . . If you start saying, "Well, they are aliens and they're from this planet," you're lost. . . . I've often been in situations where the question has been impossible to live with. You can't not answer it, and you can't answer it either. And there you have it.
Betty White: "Consciousness is Everything" by Michael Tymn: The entities called the "Invisibles" by Stuart Edward White and Betty White communicated through Betty's mediumship between 1919 and 1936 (see prior blog post). The Betty Book was published in 1937, telling… Read more
The Unobstructed Universe: Resurrecting Betty White by Michael Tymn: Over a period of some 20 years, beginning in 1925, popular author Stewart Edward White (1873 - 1946) wrote 10 books dealing with communication from the spirit world. They first came through the mediumship… Read more
Life & Death Before Electricity – More Misery than Merriment by Michael Tymn: During a recent power outage, the result of stormy weather and high winds, I wondered what it would be like to live permanently without electricity. I wondered how it was for people a hundred or more years… Read more
The Missing Witness for Life After Death by Michael Tymn: In the trial summarized in my essay for the Bigelow contest eleven witnesses testified for the plaintiff, The Survival School, in its suit against The School of Materialism, aka The School of Nihilism.… Read more