Books, eBooks and audio books


Featured books


Conflict is the root of all evil, for being blind, it does not see whom it attacks. Yet it always attacks the Son of God, and the Son of God is you.
~ A Course in Miracles.

Dream Telepathy: The Landmark ESP Experiments Montague Ullman, Stanley Krippner, Alan Vaughan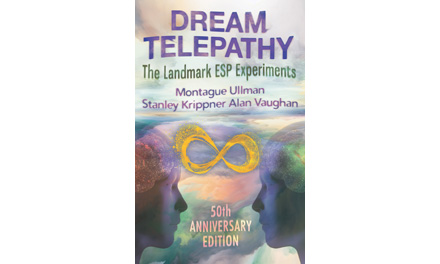 BACK IN PRINT! 50th ANNIVERSARY EDITION This book is the first to scientifically explore the phenomenon of telepathic dreaming in depth. It recounts how psychiatrist Montague Ullman and psychologist Stanley Krippner conducted experiments to determine whether persons acting as senders can transfer their thoughts to the minds of sleeping receivers, thereby altering their dreams. Their results were astonishing: the researchers were able to verify several instances of telepathic communication between participants. Participants often gave uncannily accurate descriptions of images that the senders attempted to project to them – apparently confirming the reality of extrasensory perception during the dream state. Read more...

Feature articles
An Extraordinary Clairvoyant and an Extraordinary Policeman by Zofia Weaver


Jackowski's name became more prominent because of a case in the mid-1990s. The case in question took place in 1994-95 and involved three men who disappeared while on a business trip to Kaliningrad (Koenigsberg). Their families asked Jackowski for help and using a photograph of one of the men he sensed that the man was dead, as were his companions; their throats had been cut and they had been decapitated. The clairvoyant could hardly believe what he saw but when he tried again he saw three headless bodies in a forest at a specific location.

Twin Telepathy: A Daft Question by Guy Lyon Playfair
Early in the evening of 27 November 1975, the writer and television personality Ross McWhirter was shot in the head and chest by two gunmen on the doorstep of his north London home. He was rushed to hospital, but was declared dead on or shortly after arrival, before his identical twin brother Norris could reach his bedside. The murder made the front pages of the following day's newspapers, for the McWhirters, editors of the Guinness Book of Records, were probably Britain's best known pair of twins after the notorious criminal Kray brothers (of whom more later). When I heard the news on the radio that night I found myself wondering if there was any truth in the claim that twins could pick up each other's thoughts and feelings at a distance?
Parapsychology and the ESP Controversy by D. Scott Rogo


What is parapsychology and is it a valid science? These two questions are among the first asked when the topic of ESP is brought up. Parapsychology might simply be defined as the study of psychical phenomena, or more distinctly, "behavioral or personal exchanges with the environment which are extrasensorimotor—not dependent on the senses and muscles." To be a little less obscure, parapsychology deals with cognition such as telepathy or foreseeing the future that is not based on any of the five senses.
Too Much 'Beating Around The Bush' on the "Afterlife" by Michael Tymn: As a 13-year-old high-school freshman in 1951, I competed in my first running event at a track meet, the 180-yard low hurdles. I was in first place going over the final hurdle, but nobody told me that… Read more
More Spirit Teachings from Imperator by Michael Tymn: The Imperator group of 49 apparently advanced spirits had much more to communicate through the mediumship of William Stainton Moses, an Anglican priest, than what is summarized in the last two blogs here.… Read more
"Higher level spirits" On Truth, God, Jesus, & The Resurrection by Michael Tymn: "Our work is an organized missionary effort to disseminate Truth, without which the spiritual life of your world would die. Of religion there is but little amongst you, and what little there is has, in… Read more
Why Spirit Communication Has Waned by Michael Tymn: People often ask why the communication coming from the spirit world during the first 30 or so years of the so-called spiritualism epidemic, from 1850 until around 1880, was so different, seemingly so much… Read more