Books, eBooks and audio books


Featured books


Millions of spiritual creatures walk the earth unseen, both when we sleep and when we awake.
~ John Milton

When Did You Ever Become Less By Dying? AFTERLIFE: The Evidence by Stafford Betty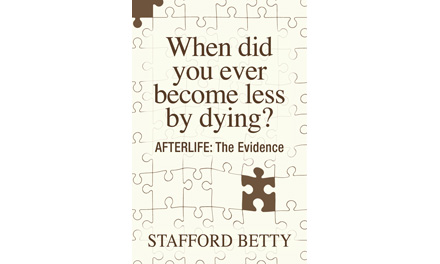 In his most compelling work to date, Stafford Betty provides eleven chapters of evidence that include deathbed visions, near-death experiences, apparitions, reincarnation, terminal lucidity, poltergeist phenomena, spirit communication, spirit attachment, and instrumental transcommunication, all which suggest consciousness continues in the post physical state. Paying homage to the 13th century poet, Rumi, he asks, When Did You Ever Become Less By Dying? Read more...

Feature articles
An Hour in Purgatory by Albert Pauchard


MY dear friend, I heard you say a few moments ago something like: Scoriae.... I know that for my part I have quite a lot to burn and I am prepared for it. But that such a good man like him should have had so many, is almost inconceivable!

The Celestial Hierarchy by Judge Patterson-Hatch via Elsa Barker


I am about to say something which may shock certain persons; but those who are too fond of their own ideas, without being willing to grant others their ideas in turn, should not seek to open the jealously guarded doors which separate the land of the so-called living from the land of the certainly not dead. This is the statement which I have to make: that there are many gods, and that the One God is the sum total of all of them.

The Near Death Experience: Evidence of an Afterlife


An interesting interview with Dutch Cardiologist, Pim Van Lommel about his research into Near Death Experiences. Van Lommel's research has been published in the Lancet and he is one of the many credible scientists and physicians whose work has led them to the conclusion that consciousness is primary and not a product of the brain.
Wikipedia Strikes Out on Leonora Piper by Michael Tymn: Truth is often manipulated and distorted these days, as we have often witnessed with our two presidential finalists. However, as I see it, there is no bigger distortion of truth than that we find in the… Read more
Why Many 'Nones' Believe in Life After Death by Michael Tymn: An Internet release on July 15 by Religion News Service (RNS) asked why so many "nones" – people claiming no religious affiliation – believe in life after death. Read more
Psychologist Matthew McKay Discusses Spirit Communication by Michael Tymn: In his recently released book, "Seeking Jordan," Matthew McKay, Ph.D., (below) details his efforts to connect with and communicate with his son Jordan, who had been murdered six years earlier, at age 23. Read more
Life after Death: Keith Parsons reaches the masses! by Michael Tymn: Imagine, if you will, more than 130,000 people gathered in St. Peter's Square at the Vatican to hear the pope speak. I don't know if the pope has anything meaningful to say in that imaginary situation;… Read more