Books, eBooks and audio books


Featured books


"True ignorance is not the absence of knowledge but the refusal to acquire it"
~ Karl Popper

Charles Richet: A Nobel Prize Winning Scientist's Exploration of Psychic Phenomena by Carlos S. Alvarado, PhD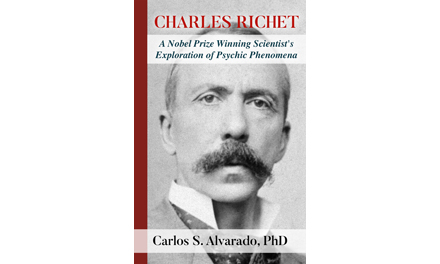 In Charles Richet: A Nobel Prize Winning Scientist's Explorations of Psychic Phenomena, author, Carlos Alvarado, presents a collection of previously published scholarly papers about Richet. Charles Richet (1850-1935), the distinguished French physiologist who won a Nobel Prize for his work on anaphylaxis, was a renaissance man. In addition to physiology he wrote poetry and plays and took an interest in many topics including pacifism, eugenics, philosophy, psychology and psychical research, which he referred to as metapsychics—the subject of this book. Read more...

Feature articles
Atheist professor's near-death experience in hell left him changed


In some near-death experiences, people report they were drawn toward "the light." But in this horrifying near-death experience for an atheist art professor, he was drawn into the darkness of hell, which dramatically altered the course of his life. "I was a double atheist," says Howard Storm, who became a tenured art professor at Northern Kentucky University by age 27. "I was a know-it-all college professor, and universities are some of the most closed-minded places there are," he notes.

The Inner Spirit Body by Edward C. Randall


"There is a natural body, and there is a spiritual body." Those words have fallen from the lips of priests, over the bodies of the so-called dead, for thousands of years, yet not a single minister who uttered them, nor one among the millions of mourners, who for centuries past heard them, ever formed any rational conception of what they meant and for ages the world has been filled with sorrow."

A Visit to Otherwhere by Kurt Leland


My curiosity about the cave drew me away from the first being and toward the second. As I approached the larger being, I felt that I was coming into the presence of a holy person, a saint, some highly developed soul. I wondered if I should kneel or bow.
What Do We Remember After Death? by Michael Tymn: When my wife said not long ago that I should try to communicate with her after I die, I pondered on what I might be able to do or say that would be evidential to her. Read more
On Not Wanting to be a "None" by Michael Tymn: Several times during the past 15 years I have had to sit in front of a hospital admissions clerk and answer questions – full name, address, date and place of birth, spouse's name, doctor, insurance, prior… Read more
Why Doubting the Afterlife is a Good Thing by Michael Tymn: One of the arguments made by so-called skeptics in opposition to the belief that consciousness survives death is that if there is an omniscient God behind it all "He" should be able to do a better job… Read more
Does "Oneness" in the Afterlife Mean Loss of Individuality? by Michael Tymn: For those who accept the strong evidence that consciousness survives death, there remains a very big question relative to the nature of that consciousness – namely, does the soul retain its individuality… Read more