Books, eBooks and audio books


Featured books


"If you are mindful of death, it will not come as a surprise — you will not be anxious. You will feel that death is merely like changing clothes. Consequently, at that point you will be able to maintain your calmness of mind."
~ Dalai Lama

Shining Light on Transcendence: The unconventional journey of a Neuroscientist by Peter Fenwick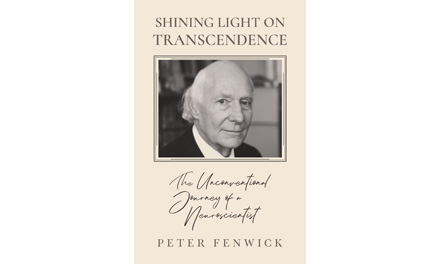 What is consciousness? How does it relate to the brain, to the mind? Does it even extend beyond them? And if so, might those experiences — telepathy, extrasensory perception, near death experiences — be called 'paranormal' because we can't explain them by any normal means? Anything with a firm belief structure, whether it is science or religious faith, limits experimentation and a free spirit of enquiry. I wanted to find a synthesis between these two fields of experience, the measurable and the immeasurable. And it seemed to me that the best – indeed, the only way I could find out more was by finding people who had such immeasurable experiences and studying them. Read more...

Feature articles
"Dying" by Stafford betty
What is dying like from the point of view of our spirit friends? And what immediately follows dying? One of the richest descriptions of the afterlife was transmitted from the mother of an Anglican minister, Rev. Vale Owen, in 1917. Owen's mother had died eight years earlier. The book, The Life Beyond the Veil, was first published in 1920. In it is a moving description of a passing that vividly suggests the difference in attitude between typical earth-side views of death and the spirits'. Bear in mind that the speaker is the Rev. Owen's deceased mother. Here is the full account.
The Illusion of Reality


"All matter is merely energy condensed to a slow vibration. We are all one consciousness experiencing itself subjectively. There is no such thing as death, life is a dream, and we're the imagination of ourselves." ~ Bill Hicks

The mystery of Patience Worth


Over 24 years, Patience Worth dictated books, short stories, plays and poems, through the mediumship of a woman in St Louis, Missouri. Michael Tymn investigates.
How the Eiffel Tower is Like the Spirit World by Michael Tymn: "Why can't a medium find out what happened to Flight 370?" That was the question asked not long ago by a reader of one of my books. He was referring to Malaysia Airlines Flight 370, which disappeared somewhere… Read more
Explaining the Death of a Parent to a Child by Michael Tymn: When my friend Dave was asked by his nine-year-old granddaughter what happens to us when we die, he struggled and stumbled in his response, realizing that it required an answer that went beyond the trite,… Read more
The Cloud of Unknowing and Carl Jung's' Collective Unconscious by Michael Cocks: Perhaps you remember the story from the Gospel of Matthew, where Jesus takes Peter, James and John up a high mountain. At the peak they see him transfigured as he truly is spiritually, shining white. With… Read more
Choosing Truth over Fact and Holey Jeans by Michael Tymn: When, during a recent presidential campaign speech, former American vice-president Joe Biden said that he chooses "truth over facts," it was assumed that he blundered and meant to say that he chooses "fact… Read more