Books, eBooks and audio books


Featured books


The phenomena of time and sense are like children's toys to us. They will be discarded as you dwell in the higher consciousness. What divides us now is simply and only that you are not dwelling in, not breathing, seeing, hearing from the spiritual plane.
~ Christ In You

If Morning Never Comes: A Soldier's Near-Death Experience on the Battlefield by Bill Vandenbush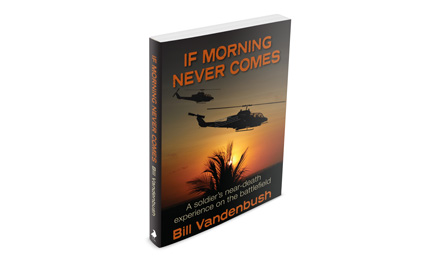 A tragedy of war nearly destroyed my life, but a force intervened and has guided me on an incredible lifelong journey. My Near-Death Experience took me to the place where Spirit meets the Universe and showed me that we can all be enlightened, regardless of religious beliefs. Come join me on this journey and learn how Spirit taught me to overcome overwhelming odds and find my purpose in life. In this book, I share with you the insights and lessons learned from an excursion into a dimension of enlightenment, and my return home from the hell of combat." ~ Bill Vandenbush Read more...

Feature articles
Abduction: The Next Generation by John E. Mack


The alien abduction phenomenon can be defined as the experience of being taken by humanoid beings, usually but not always against the person's will, into some sort of enclosure where a variety of procedures and communications occur. Not all of the encounters described in this book are typical or classical in the sense of being intrusive and/or traumatic.

Atheist professor's near-death experience in hell left him changed


In some near-death experiences, people report they were drawn toward "the light." But in this horrifying near-death experience for an atheist art professor, he was drawn into the darkness of hell, which dramatically altered the course of his life. "I was a double atheist," says Howard Storm, who became a tenured art professor at Northern Kentucky University by age 27. "I was a know-it-all college professor, and universities are some of the most closed-minded places there are," he notes.

Black Elk's out-of–body-experience


"After awhile I began to feel very queer. First, my legs seemed to be full of ants. I was dancing with my eyes closed, as the others did. Suddenly it seemed that I was swinging off the ground and not touching it any longer. The queer feeling came up from my legs and was in my heart now. It seemed I would glide forward like a swing, and then glide back again in longer and longer swoops. There was no fear with this, just a growing happiness.
The Christian Parapsychologist- also Luis Sergio Marotta by Michael Cocks: Many, both within the churches, and outside, heartily wish that the churches would take to themselves the findings of scientific psychical research, and the testimony of mystics of all religions, and from… Read more
The Truth, the Whole Truth, and Nothing but the Truth by Michael Tymn: As discussed in my August 22 post, the person in search of historical truth relative to mediums and paranormal phenomena may very well be confused if he or she relies on Internet references. Read more
Psychic Research and Basic Religion. by Michael Cocks: Psychic research asks questions like: Is there a spiritual world? Is there an afterlife for each person that lives? What is the afterlife like? More and more wonderful and trustworthy books give us an… Read more
No Ferrari for this Doctor by Michael Tymn: One of the effects of the near-death experience (NDE) often reported by experiencers and researchers is a transformation from a materialistic way of life to a more spiritual one. Read more