Michael Tymn's blog


Biorhythms: A Missing Component in the Study of After-Death Communication
Posted on 25 September 2023, 7:51
In an article published in the December 1925 issue of the Journal of the American Society for Psychical Research, Dr. Hans Thirring, professor of physics at the University of Vienna, reported on his research with several mediums, primarily the brothers Willy and Rudi Schneider. "I had not…

The 13th Witness for Life After Death: Dr. Gustave Geley
Posted on 11 September 2023, 7:10
A French physician and Laureate of the French Medical Faculty at the University of Lyons, Dr. Gustave Geley (1868 – 1924, upper right photo) gave up his medical practice in 1918 to become the first director of the Institut Métapsychique International in Paris. He is most remembered for his research…

Do Earthbound Spirits Really Influence Humans?
Posted on 28 August 2023, 6:58
Do the dead influence the living? That's the subtitle of The Case for Possession, authored by Cynthia Pettiward in 1975 and recently republished by

Remembering Three Men of God
Posted on 14 August 2023, 8:23
If I begin with 1953, when I served as sports editor of my high school newspaper, this year marks 70 years of contributing to newspapers, magazines, journals, and other media. While recently sorting through about 2,000 old articles I had filed away in drawers and boxes, I began to wonder which…

Conversations with the Dead: Real or Imagination?
Posted on 31 July 2023, 19:18
Of the 350 or so blogs I have written over the past 14 years, only two or three have involved Electronic Voice Phenomena (EVP), or as it is more broadly categorized today Instrumental Trans Communication (ITC). I wasn't especially impressed with the communication as nearly all I had come across…

Long before the White Crow, there was Catherine Crowe
Posted on 17 July 2023, 7:44
The so-called "Rochester Knockings," referring to the "rappings" phenomenon experienced by the Fox sisters in the hamlet of Hydesville, just outside Rochester, New York, on March 31, 1848, is often cited as the advent of what came to be called Spiritualism, a belief based on communication with spirits…

Professor discusses "The new Catholicism" in his latest novel "The Womanpriest"
Posted on 02 July 2023, 10:45
In his latest book, a novel titled The Womanpriest, Dr. Stafford Betty, (below) a retired professor of religious studies, deals with many issues facing society, religion, and the Catholic Church, now and in the…

The Immortalist was a Nihilist
Posted on 19 June 2023, 7:38
The front and back covers of "The Immortalist," a 1969 book, offer several rave endorsements of the book and its author, Alan Harrington (below). The New York Times refers to the book as "brilliant, biting – filled with trenchant insights and challenges to great truths." The Christian…

Is the Loneliness Epidemic Rooted in Nihilism?
Posted on 05 June 2023, 8:13
"Loneliness now a public epidemic, top doctor says." So reads the headline of an Associated Press article by Amanda Seitz appearing in the Honolulu Star-Advertiser on May 3, 2023. According to Dr. Vivek Murthy, the United States surgeon general, this widespread loneliness is said to be as deadly…

Existentialism 101: Pondering on Life and an Afterlife
Posted on 22 May 2023, 8:32
Unfortunately, this course is not taught in our universities. They offer only Materialism 101, Philistinism 101, & Nihilism 101. If Existentialism 101 were taught, the teachings would center around the ideas below.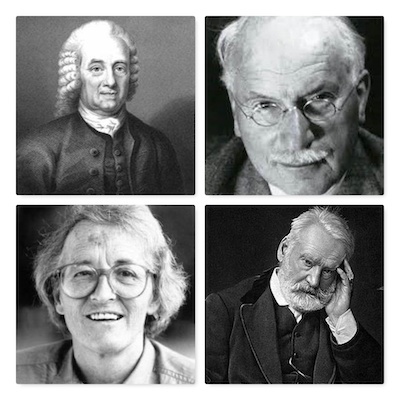 An Evolutionary Bifurcation: Transcendence or Transhumanism? by David Lorimer – In 2023, the world is a very different place compared with 2010, when I wrote the introduction you can read below, but looking at the contents of this volume, I can't help feeling that the need for a new renaissance is more significant than ever at a time of rising divisions, intensifying polarities, intolerance of other viewpoints, increasing narrative control and censorship, and the relentless rise of technocracy as social engineering employing behavioural psychology techniques such as 'nudging' and fear mongering in order to shape our perception and behaviour. Read here